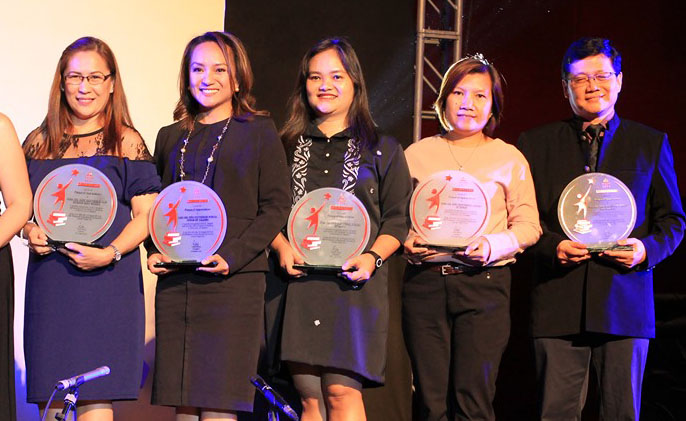 Several schools of CDNSSI were honoured at the Scholastic Readers' Cup awards ceremony held last August 20, 2019 at the Philippine International Convention Center.
The Scholastic Readers Cup, now on its seventh year, is an inter-school competition that promotes books and reading. The annual event is organized by Scholastic, the world's largest publisher of children's books.
Garnering First Place in the Sapphire Category (participating schools with population of not more than 299)was CDN Ciudad de Calamba for having an average of 40 books or more read per pupil. Said branch of CDN has been a consistent awardee of the Scholastic Readers' Cup.
The High School Department of the Main Campus received a Second Place Trophy in the Emerald Division (population: 300-499) for having an average of 40 books or more read per student.
Other CDN branches represented and honoured on that night were CDN Roxas (Isabela) and CDN San Lorenzo (Sta. Rosa City)
Present during the awarding ceremonies were Ms. Farah Acierto-Cabanban & Ms. Jasmine Nido (Ciudad de Calamba), Ms. Yoly Jakosalem, Ms. Hannah Aranjuez, Ms. Ezra Casas, Ms. Michelle Asiddao and Ms. Hazel Labordo (Main Campus/High School) Mr. Vic Belizario & Ms. Eula Vitug (Sta. Rosa City), Ms. Shirley Bermido & Ms. Christine Ferrer (Main Campus/Elem)
Aside from highlighting the boundless potential of reading to educate, to nurture the person and to positively alter lives, the Readers' Cup is also Scholastic's way of honoring the commendable efforts of education frontliners: The school directors /principals, teachers and librarians, in elevating the country's literacy rate and state.