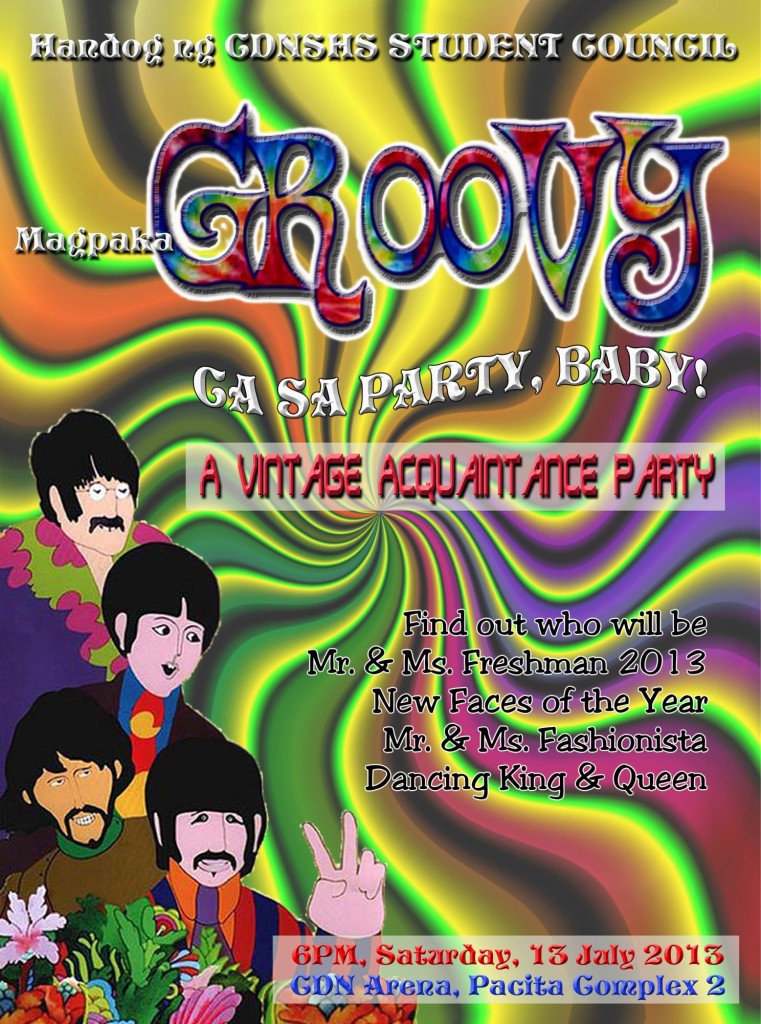 Last July 13, the Casa del Niño Science High School students held their acquaintance party at the CDN Arena, Pacita 2 Campus, San Pedro, Laguna.  The first big event of the school year, billed as "Groovy Ca Sa Party, Baby!", was a well attended vintage-themed affair.  Aside from the party, it merged competitions for the freshmen and the oath-taking ceremonies of Club and Student Council Officers who spearheaded the occasion.
Mr. Richard A. Pustasa, CDNSHS Principal, welcomed the students which included Casans from the Sta. Rosa Campus who have been invited to the party for many years now.  "This event is not just a venue for fun but also a way to unite students from both campuses," the school head said.  Ashley Papas Rinonos, a senior student, delivered her inaugural address as President of the Student Council.
Several Grade 7 students competed for the traditional Mr. & Ms. Freshman pageant and in the end, two students emerged with the title:  Jake Zavala, Mr. Freshman 2013 and Aaliyah Benizano, Ms. Freshman 2013.  For the other competition, an energetic and graceful group from section Keppler won the Freshman Dance Contest.
Special awards were also given to other deserving students. New Faces of the Year were Grade 7 students Nicole Cortez and Princess Nicole de Mesa while the organizers declared David Kingston and Nica Mendez as Mr. & Ms. Fashionista.  It was deemed that both of them stood out in their vintage-inspired outfits.
The students enjoyed the evening with the blaring music, spell-binding lights and a photo booth that captured the gaiety for posterity.  It was observed that the merrymaking was both riotous and peaceful at the same time from the moment it started at 7 PM until it concluded before midnight.
According to the SC Officers, proceeds from the ticket sales will be used for their proposed projects this school year.