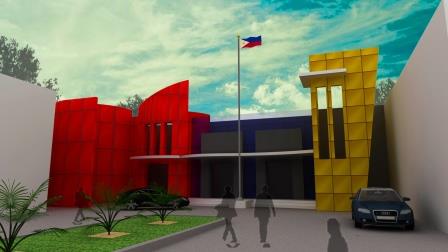 A multi-purpose structure is now in its early stages of construction at the Casa del Niño Montessori School Phase 6 campus to replace the old one that was razed by a fire last February 11 this year.   The blaze which started from a neighbor's hut at the back of the school quickly consumed the wood and concrete building that housed the science laboratory, computer room, AVR, music room and dance studio.
The ruins were demolished and cleared during the summer break and now, the foundations are being prepared.  The proposed 2-storey edifice will contain a Students' Lounge and an Audio-Visual Room at the ground floor which, when needed, may be converted to a social hall with the retraction of partitions.  The second level, according to EVP Dr. Mark G. Acierto, will house a covered basketball court.  "The pupils and parents have long clamored for this facility and now is the time for us to give it to them," he stated adding that construction will be completed within the year.
New facilities and laboratories are now located in other rooms elsewhere in the campus to replace the ones that were charred by the fire.  Newly purchased scientific equipment and paraphernalia are now being set up in the science laboratory while computer units are about to be delivered in time for the opening of classes in the Elementary Department set for the 17th of June 2013.
"The destruction of the old building has not weakened us," said the CEO of CDNSSI, Ms. Farah Acierto-Cabanban.  "Instead , it has strengthened our resolve to move forward and look at it as an opportunity to give Casans better and updated facilities," she added.
The plans for the proposed building were revealed during the summer break.  It is a modern structure with curvilinear walls and primary colors reminiscent of Montessori materials used by the pupils of the campus.
Dr. Rosario G. Acierto, President of CDNSSI, looks at things positively.  "All things happen for a reason and we cannot be derailed by misfortunes," she declared.  Since her children are now in charge of the school, this is, in a way, a test of their abilities to manage the undertaking.  She says that the construction is symbolic in many ways.  "We also look at the rising of the new building as an indication of the resurgence of Casa del Niño Schools System as one of the best institutions in Southern Tagalog and Northern Luzon," she concluded.