Being a champion in one's field of interest while being a good student in school may be a difficult balancing act to accomplish but four Casans, aside from a few others, have proven that it can be done through single-mindedness, diligence and perseverance. Angela Meygan Muramatsu and Andrew Angelo Obsequio were proclaimed top athletes in Volleyball and Taekwondo, respectively while Daniel Aiken Eduardo and Calista Joie Bautista took the top spots in a Science-Mathematics Challenge involving schools from NCR and Region 4. Being awarded medals and trophies has brought honor to the school, but more importantly, their training has built in them the value of hard work, patience and persistence.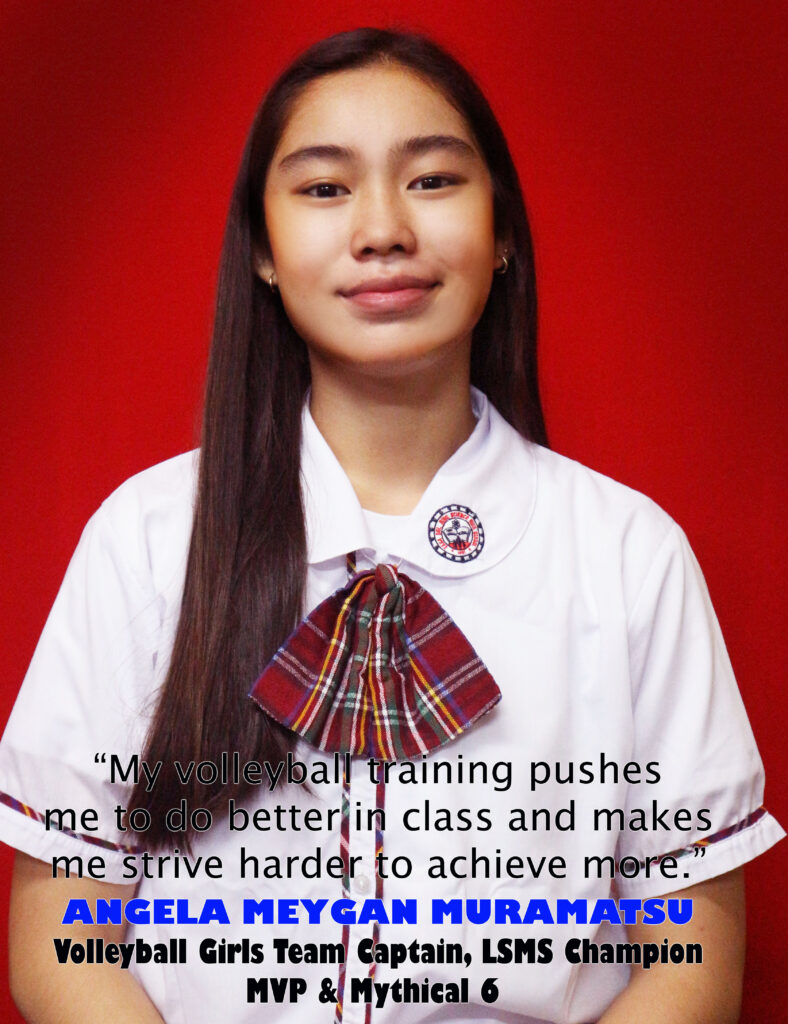 In the League of Southern Manila Schools held in Brent International School (Laguna Campus), the CDN Volleyball girls coached by Janine Biay and captained by Angela Muramatsu beat all their competitors on their way to being hailed the champion of said league. Angela was also proclaimed the Most Valuable Player of the League and part of the Mythical 6. "Training 3 nights a week and going home late has made it difficult for me to do homework and accomplish certain projects but this situation has pushed me to strive harder to do better in class," says Angela, a Grade 9 honour student who has consistently ranked among the top students since Grade 7.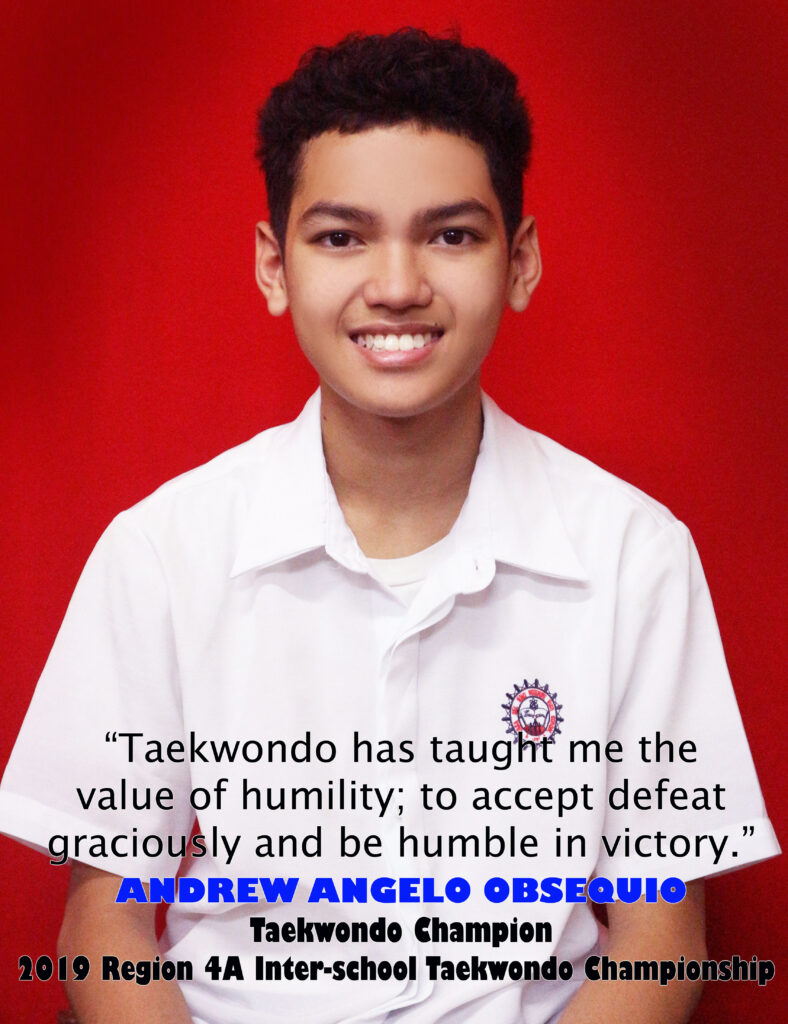 Andrew Obsequio, on the other hand, competed in a field of more than 900 players from 105 schools on his way to the top of the 2019 Region 4A Inter-school Taekwondo Championship held earlier in October at the Laguna Sports Complex where he was declared Champion in his division. Andrew says that discipline is essential and further developed in Taekwondo and attributes his training to the improvement of his character. He counts humility among the values he has acquired through his sport saying, "I am now able to accept my failures as a strengthening factor and be humble in victory unlike previously." Andrew is coached by Fidel Cunanan as part of the Red Dragon Team.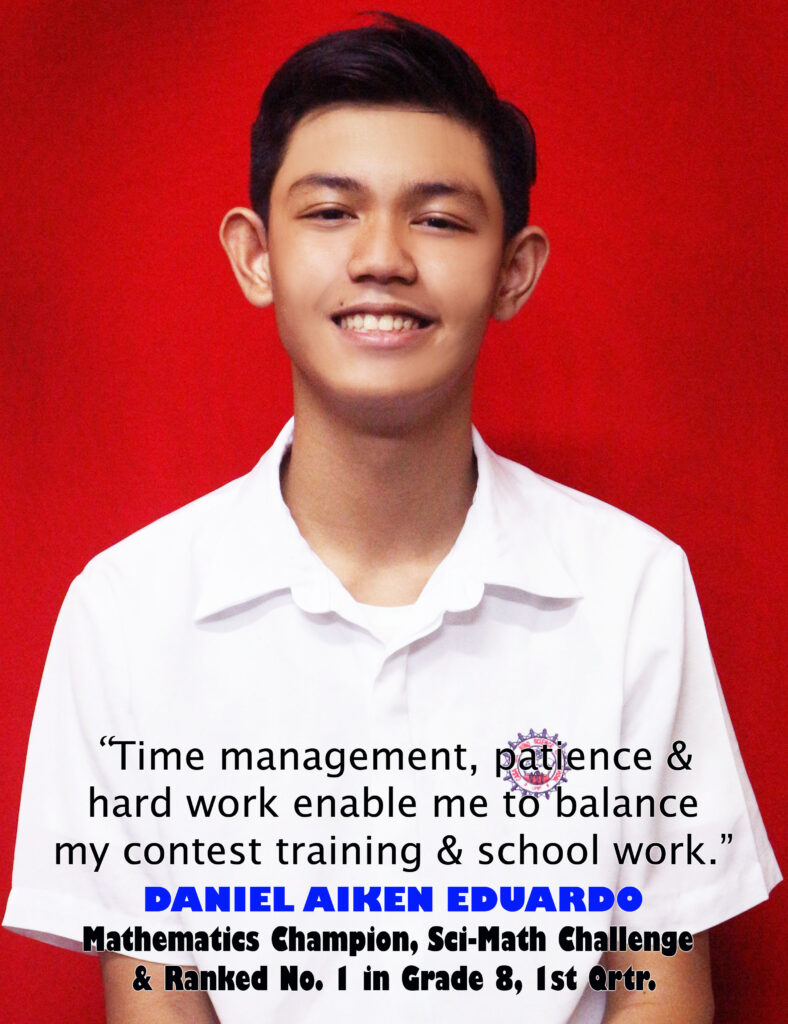 In the meantime, Daniel Aiken Eduardo has been receiving Gold Medals in Math contests and other academic pursuits since his freshman years. His coaches for the 11th Sci-Math Challenge commented on his excellent study habits and independent ways: "I only give him the topics or coverage of certain contests and then he researches independently," says Mr. Benjamin Aprecio who added that "Daniel studies on his own and he likes it that way instead of being spoon fed. He comes well prepared during trainings and does not neglect his academic responsibilities despite our hectic sessions." His other coach, Mr. Vincent Reyes remarks , "He does not stress himself with his studies but has managed to be number 1 in his grade level despite the additional load of preparing for contests. He takes things easy but delivers remarkably well."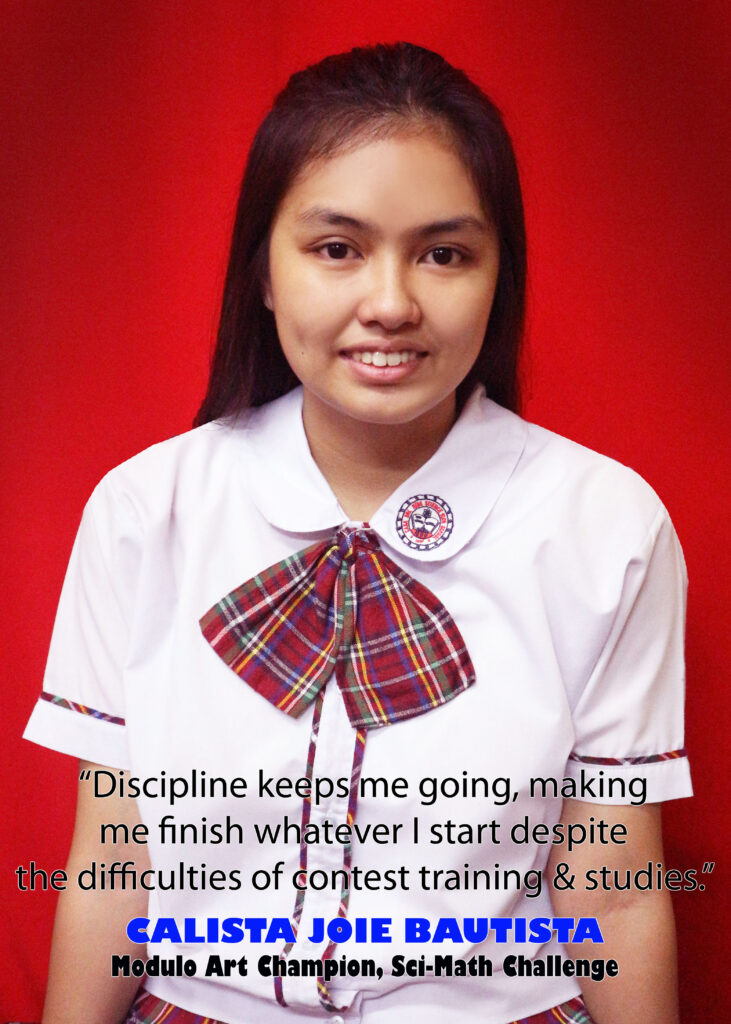 Calista Joie Bautista is another student who got the top prize in her category during the Sci-Math Challenge with the help of her coach, Ms. Mace Cauilan who says that "CJ is open-minded and accepts suggestions and ideas from others which makes it easier to coach her. She gives more than what is expected of her. " CJ says that discipline is what keeps her going, always finishing what she starts despite difficulties. Although her training sessions are gruelling, she says that , "Through the sessions with my coach, I get advanced lessons and additional knowledge which help me make intelligent discussions in class." She adds that training has improved her character, keeping her humble even after achieving something precious. Despite being an achiever, she has remained modest, saying that her accomplishments make her proud of herself but reminders from her parents and teachers have kept her grounded at the same time.
The four victorious Casans agree that time management and hard work help them navigate their way through their training schedules and academic studies. Aside from bringing honour to the school and their individual families, they also believe that what they are doing today is preparing them for the future. Angela Muramatsu says that she will seek a volleyball scholarship to help finance her college studies. Andrew Obsequio sees himself making a career in Taekwondo someday while both CJ Bautista and Daniel Eduardo will take college courses related to Science and Mathematics, fields that they both excel in.
Constant reminders that "The End of Education is Character" abound in this school which gives premium to Values Formation and Character Building not only for champions but also for regular students. Casa del Nino officials pride themselves not only in helping develop the minds and bodies of the students but also in nurturing their character and values by instilling good habits, discipline and hard work to achieve their ambitions and goals for the future.