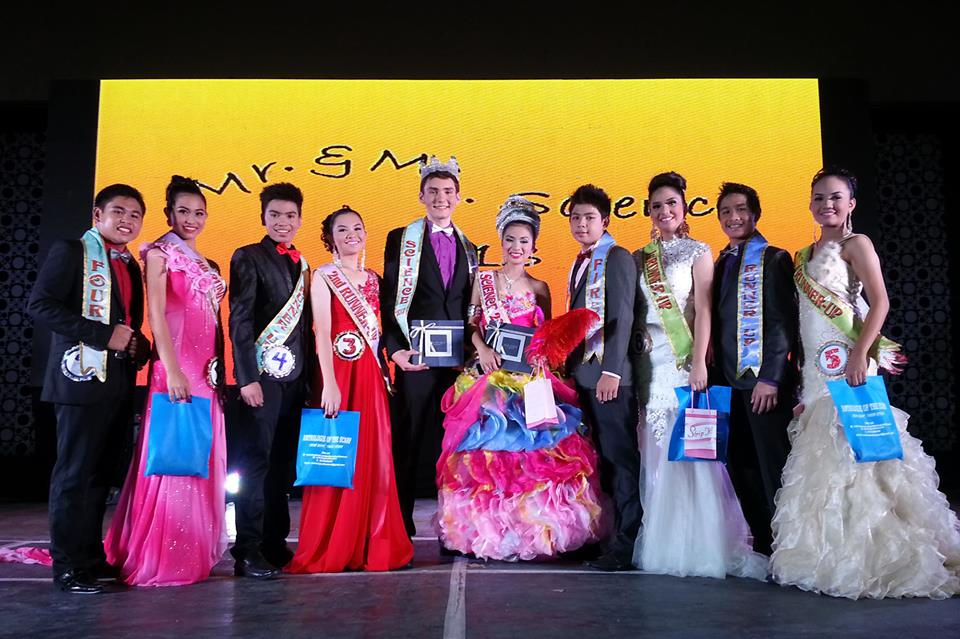 After several postponements, the search for Mr. & Ms. Science 2013 finally culminated last Monday, October 14, at the CDN Arena in what the avid critiques say was the most high-tech pageant in our school's history ever.
3rd year student David Kingston was proclaimed Mr. Science 2013 and was crowned by outgoing titlist Mark June Rodriguez.  Kingston also won the Mr. Photogenic award.  In the female division, Nicole de Mesa passed on her title to senior student Daisherene Driza as Ms. Science 2013 after winning two other  awards, Best in Costume and Best in Talent Show.
Finalists included Miguel Luis de Guzman & Janelle Mitra (1st Runners Up), Tyrone Salcedo & Denise Molo (2nd Runners Up), Stephen dela Cruz & Stephanie Tornea (3rd Runners Up) and Mclywane Prepotente & Naomi dela Cruz (4th Runners Up).
Other special awards were presented that night, namely:  Best Costume to the designer of Janelle Mitra (Dann Seterra and Ranelson Espaldon); Best in Uniform to Tyrone Salcedo and Stephanie Tornea; Teachers' Choice to Stephen dela Cruz and Stephanie Tornea;  Netizens' Choice to Tyrone Salcedo and Denise Molo;  Best in Costume to Tyrone Salcedo and Daisherenne Driza; Mr. & Ms. Friendship to Mclywane Prepotente and Janelle Mitra; Best in Talent Show to Mclywane Prepotente and Daisherenne Driza; Students' Choice to Michael Ramirez and Janelle Mitra; Best in Casual Wear to Stephen dela Cruz and Naomi dela Cruz; Mr. & Ms. Photogenic to David Kingston and Naomi dela Cruz; Director's Choice to Michael Ramirez and Coolyn Camat; Mr. & Ms. Personality to Tyrone Salcedo and Stephanie Tornea; and Best in Formal Wear to Miguel de Guzman and Coolyn Camat.
Center of the audience's attention was the huge LED video wall that made the event more colorful and awe-inspiring thanks to Ms. Joanne dela Cruz who sponsored the high-tech VideoSonic equipment .  Special thanks to the able VideoSonic staff who worked from very early in the morning until everyone was gone that evening.
Other sponsors were Jay Carlo Olaguer who was the official photographer of the event,  My Coolection Shoppe for the Netizens' Choice winners, Pevonia Botanica who gave gift packs for the winners care of Ms. Marie Elaine Palapag and Anthologie of the Scarf care of Ms. Logie Tonacao who provided scarves for the candidates.